Datum - Uhrzeit
27/11/2020
14:00 - 14:45
Kostenfreies Business-Storytelling Webinar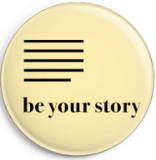 JETZT NEU! Durch kostenfreies Schnupper-Webinar Business-Storytelling unkompliziert und interaktiv kennenlernen.
Storytelling ist in aller Munde. Wie können Sie Stories einsetzen, um Ihre Unternehmenskommunikation auf das "next level" zu bringen und den Abstand zu KundInnen zu verringern?
Ihr Mehrwert durch das kostenfreie Schnupper-Webinar:
Sie lernen die Einsatzmöglichkeiten von Storytelling für Ihr Business kennen.
Wir geben Ihnen einen Überblick über weiterführende Business-Storytelling-Ausbildungen von be your story (Weitere Informationen)
Sie bekommen eine Kostprobe über die kreative und praxisorientierte Arbeitsweise in den Webinaren
Sie bekommen einen Einblick wie Sie Storytelling in Ihrer Kommunikation einsetzen können.
–> Mehr über den Storytelling Ansatz von be your story im Presseartikel in der Wirtschaftszeit
und im Artikel im Magazin BusinessArt
Anmeldung zu den Business-Storytelling Webinaren
Melden Sie sich gleich an durch Klick auf den Anmelde-Button. Mit Ihrer Anmeldung erklären Sie sich dazu bereit, in den Newsletter-Verteiler von be your story aufgenommen zu werden. Die Angabe der Telefonnummer ist optional. Diese Einverständniserklärung können Sie selbstverständlich jederzeit ohne Angabe von Gründen widerrufen.
Wir freuen uns!
Buchungen
Die Veranstaltung ist ausgebucht.