What's your story? Einzigartige Menschen und Unternehmen haben einzigartige Stories. In Storytelling Workshops und -Coachings bringen wir die Essenz Ihres Unternehmens ans Licht und verwandeln sie in authentische Kommunikation. Ihr Ergebnis? Charismatische, inspirierende Stories und Texte, die den Spirit Ihres Unternehmens zu den Kunden, Mitarbeitern und in die Öffentlichkeit tragen.
Storytelling Work-shops & Coachings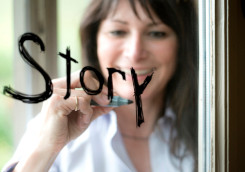 Damit der Funke überspringt:
Vom Blog-und Web-Text bis zur charismatischen Präsentation: in Workshops oder in individuellen Coachings entwickeln wir Ihre authentischen Stories und Inhalte aus dem Kern Ihres Unternehmens heraus
Location zum Mieten in Wiener Innenstadt
be your story ist der Wiener Space für Inspiration und Kommunikation im Grätzl zwischen Ring, Votivkirche und Servitenviertel. Räume zum Mieten als Arbeitsplatz, für Workshops, Präsentationen, Shootings, Pop-ups, Meetings…
Presse – be your story im Magazin trend.
Im Wirtschaftsmagazin trend: Alles über das be your story-Konzept und den be your story-Space: Storytelling für die zeitgemäße Kommunikation, als Leadership-Tool und zur Stärkung des Teamgeists, besonders in Zeiten von Veränderung