Datum - Uhrzeit
23/07/2020
Ganztägig
Veranstaltungsort
be your story-Space im Zentrum Wiens
Kolingasse 3
1090 Wien
Urban Summer Schreib Retreat
Dein Tag für Dein Schreiben und Deinen kreativen Flow
Donnerstag, 23. Juli, 09.30 bis 17.30 Uhr
Schreib Retreat in Wien – be your story Space
Du hast sie Dir verdient – Deine Midsummer-Break, Dein Luft-holen, Deine Pause vom Alltag.
Wir geben die Impulse, du schreibst und kreierst, was immer von Dir geschrieben und kreiert sein will – ein BLOG- oder Newsletter-Text, ein Konzept für ein fetziges Projekt, eine fiktive oder persönliche Story*, eine inspirierende Collage…..
Es erwarten Dich Freewritings, Kreativtechniken, Feedback-Runden und inspirierender Austausch. Für die angenehme Summer-Breeze sorgen Wassermelonen, Windmaschinen, Fuß-Planschbecken und natürlich die Coolness des be your story-Space :-).
Ein Tag mit beyourstory.at & studiovariety.art & Dir!
Wir machen Dich leer vom Alltagsgrau und Du gehst voller Inspiration, gestärkter positiver Energie und mit neuen Ideen & Texten nach Hause.
*Du willst Deine Story nicht nur schreiben, sondern auch flugs veröffentlichen?
Das geht ganz unkompliziert! Auf der Plattform des be your story-Partners Story.One: www.story.one)
Kosten
Jetzt EUR 90,-
(Preis excl. USt, soweit erhoben)
Anfragen und Anmeldung bitte unter Tel. 0664 516 85 85 oder office@beyourstory.at
Mit Bettina und Katharina: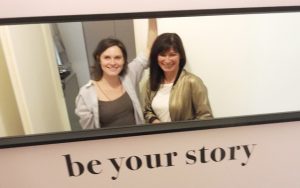 Mag. Bettina Fürlinger, MA
Kommunikationsberaterin, Schreib-Coach, Uni-Lektorin und Trainerin für Unternehmensentwicklung, Storytelling und kreatives Schreiben www.beyourstory.at
Katharina Höppel, MA
Künstlerin und Designerin
www.studiovariety.art
Buchungen
Buchungen sind für diese Veranstaltung nicht mehr möglich.